1.Are there any waterproof fitness trackers?
The answer is yes. Not so long ago this question was a bit harder to answer. Now, there quite a few different options of waterproof fitness trackers on the market. You will need to be careful when choosing as there are subtle differences between waterproof and water resistant and you don't want your newly acquired tracker to come to a watery end.
2.What fitness tracker can i swim with?
A waterproof fitness tracker. Check out the post on fitness trackers for swimming to get a good sense of what is available.
3.Do fitness trackers cause cancer?
This question probably stems from the still unproven claims that cell phones can cause cancer and people have grouped fitness trackers and mobiles together. As it turns out, this is an unfair comparison. Fitness trackers generally use bluetooth to communicate which is at a much lower output to cellphones and of course trackers aren't held close to your head. The difference between cellphones and trackers is demonstrated in the video below. As such, there is currently no definitive link between fitness trackers and cancer and as the market has matured there is more evidence to support this theory.
4.What fitness tracker should I buy?
Of course, as with any purchase the answer to this really depends on what you are looking for. There are many different elements that need to be considered to help you narrow down the options. The main questions that you have to ask yourself are
a) Am I someone who is concerned with the aesthetics and the look?
b) Is a display important to me?
c) Does it need to be waterproof?
d) How long does the battery life need to be between charges?
e) Do I want to be part of a community and part of the people use the app? Which app suits me best?
We believe, that answering these questions will get you to a shortlist of fitness trackers that are right for you. You may also come up with more questions as you go to further refine your options to give you a shortlist then it is all down to personal preference. Check out our handy guide to choosing a fitness tracker to help you further
5.Do fitness trackers work on elliptical trainers?
Fitness trackers do work on elliptical trainers but the level of accuracy may not be the greatest. Some Fitbit trackers like the Fitbit Charge HR automatically recognise that you are on an elliptical trainer, detecting the motion of your wrists pulling backwards and forwards on the machines handles through the accelerometers. However, as the devices are designed primarily as pedometers you will sometimes get varying results on the actual distances covered.
6.Do fitness trackers work on treadmills?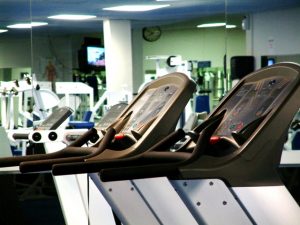 Yes, fitness trackers do work on treadmills but you have to be aware that fitness generally track movement by interpreting movement data sent from their accelerometers. This means, that sometimes the results you get from your tracker can vary based on how you move your arms. Overall, the results on a treadmill should be pretty accurate.
7.What fitness tracker syncs with myfitnesspal?
myfitnesspal list a number of partner services on its website. This should give you an idea of what fitness trackers sync and also give you some indication of how to set up your tracker so that it works well with myfitness pal. Itz will be somewhere along the lines of these set-up instructions for a Fitbit fitness tracker.
8.Which fitness tracker tracks cycling?
To get the best bang for your buck we would recommend moving away from a fitness tracker that tracks cycling and aim towards something that is better suited for multi-sports. This can range from the more affordable end of the market with the Moov Now complete with a band that can be placed around your ankle to tracker cadence all the way to smart watches. As the watches get more sophisticated so does there functionality so not only will you be able to track your rides but also your overall fitness and how that feeds into your ride times. In this space, some of the main contenders are the Fitbit Blaze, Garmin Forerunner series and the Polar V800.
9.Should i use a fitness tracker?
It is a good question to ask. In our opinion, the group with the most to gain from the use of a fitness tracker are those who like to track their progress and see how they are progressing towards their fitness goal. If you are somebody who wants more data and phone integration and payments you will probably need to consider going down the route of purchasing a smart watch such as the Apple Watch.
10.What does a fitness tracker do?
A fitness tracker makes use of the relationship between software, accelerometers and sensors to measure data pertaining to fitness. Typical measurements that are taken are sleep patterns, steps in day, stairs climbed and calories burned. This data is subsequently uploaded into a software application where it is compared with your own personal historic statistics or sometimes fellow users of the app you are using to analyse the data. The aim is to notice patterns over time to improve your overall fitness and increase awareness of health, mind and body. This post give some more detail about the science behind fitness trackers.
11.Which fitness trackers have gps?
See below for an idea of the current fitness trackers that have GPS capabilities:


12.What fitness trackers work with weight watchers?
Weightwatchers fans can make use of their proprietary activity tracker or trackers made by Jawbone or Fitbit.
Instructions on how to sync can be found here and bear in mind that you will need a relevant online subscription to get the full benefit.
13.How long does the battery last on a fitness tracker?
There is a large variation on how long the battery lasts on a fitness tracker. Naturally, most of that is down to the amount of bells, whistles and whizzbang features on the tracker itself. So for example something like the Samsung Gear Fit 2 or Apple Watch has to support GPS, screens etc so will weigh in around 5 days of useful life. At the other end of the scale you will get simpler devices such as the Moov Now, Fitibit Zip or Garmin Vivofit which generally have a coin like watch battery and last in the region of 6 – 12 months between charges.
14.What fitness tracker works with s health?
S health or Samsung Health in its rebranded identity is optimised to work with Samsung trackers like the Gear Fit. That being said it is compatible with other devices including iPhone and Fitbit trackers but the functionality is more limited.
15.Where to buy fitness trackers?
This one is easy and concise. Fitness trackers are available at Amazon as well as in the majority of supermarkets and sports outlets. My advice would be to check out reviews, understand why and what you want a fitness tracker for and seek out the best one you can afford either on-line or in store.
16.What fitness tracker is used on biggest loser?
If you are a fan of the biggest loser you may have seen some of the participants wearing a tracker, such as Chandra in this video.

For those that are interested it is a Garmin vivofit of which there is a biggest loser edition on Amazon. Of course, more than likely it is featured by virtue of product placement, so it isn't necessarily the best device out there.