As two of the best smartwatches on the market, both Fitbit and Samsung watches offer unique benefits, making it hard to choose between the two of them. But we're going to try!
Today we'll be reviewing the Samsung Galaxy Watch 4 and the Fitbit Sense. 
The Samsung Galaxy Watch 4 is the best smartwatch for Android overall, but the Fitbit Sense is still an ambitious wearable piece of tech that is health-focused and more than keeps up with the features that make Samsung watches stand out.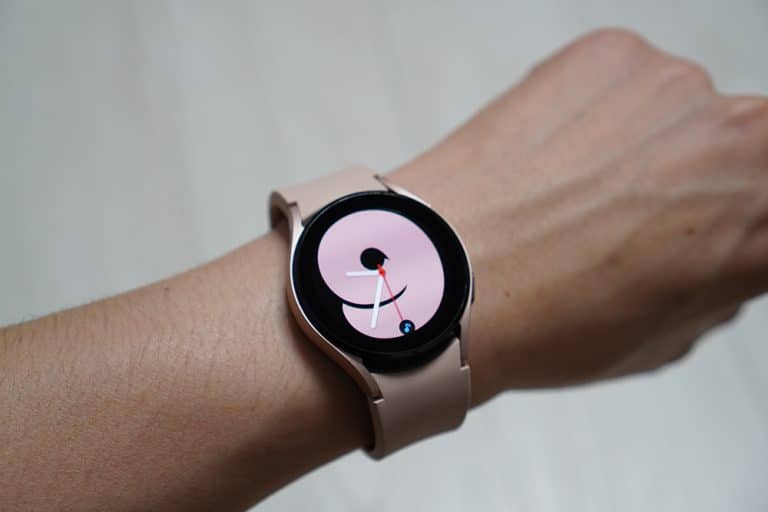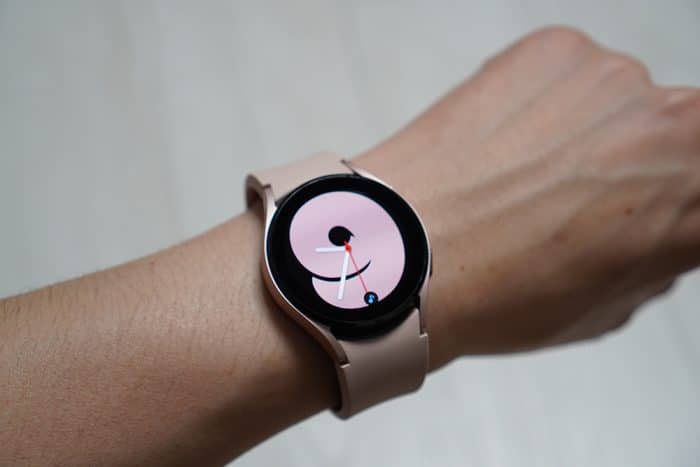 While it may not run the new Google Wear OS like the Galaxy Watch 4, the FitBit Sense still offers up amazing fitness tracking tools and an intuitive interface. 
But how do the two compare in terms of design, display, battery life, and health features?
We'll be finding out, as well as answering the age old question: what's the difference between a smartwatch and a fitness tracker? Without further adieu, let's dive right in!
What's The Difference Between A Smartwatch And A Fitness Tracker?
Put simply, a fitness tracker is designed to monitor your health and exercise. While a smartwatch does these things too, it also keeps you connected to your phone while exercising by sending you notifications and updates to your wrist. 
While there are a lot of similarities between the two, fitness trackers don't display texts or app notifications like smartwatches do. But that's not what fitness trackers are intended for anyway, they're more focused on monitoring your daily activity and health.
A smartwatch also keeps track of how many steps you've taken like a fitness tracker, as well as how many calories you've burned and monitors your heart rate 24/7. 
It's understandable why so many people gravitate towards smartwatches then, as they provide pretty much all of the same data as a fitness tracker with the added bonus of keeping you connected to calls, texts, emails, and social media updates. 
While the Samsung Galaxy Watch 4 is a smartwatch through and through, the FitBit Sense is kind of a hybrid –  a fitness tracker meets a smartwatch. It has a lot of the same features as a smartwatch but more of a focus on health and fitness like a tracker.
Design And Display
The Samsung Galaxy Watch 4 and and Fitbit Sense have quite different looks. For example, the Galaxy Watch 4 more closely resembles a traditional watch, especially the Classic model's physical rotating bezel and stainless steel chassis.
Meanwhile, the Fitbit Sense has a sportier feel and a shape that's somewhere between a square and a circle, more closely resembling an Apple Watch 6 and other Apple Watch models.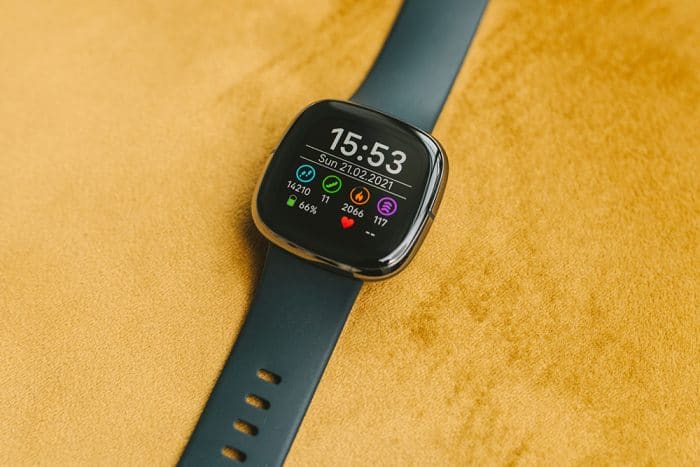 But unlike both the Apple Watch and the Galaxy Watch 4, the Fitbit Sense has no protruding buttons and instead has capacitive touch controls on the right side which makes it look sleeker.
It's 1.58-inch AMOLED display has a resolution of 336 x 336 pixels which is lower than the Galaxy Watch 4.
The smaller Galaxy Watch 4 has 396 x 396 pixels, meanwhile larger sizes have 450 x 450 pixels. While this disparity may not be too noticeable, the larger Galaxy Watch's do have sharper visuals when compared side by side with their smaller counterparts.
Both watches also have customization options in the form of watch colors and watch straps. They both come in an array of metallic finishes, and the bands are easy to swap meaning that you can easily match your watch to your exercise gear.
Health Features
The Samsung Galaxy Watch 4 and the FitBit Sense both support a variety of tools for tracking your physical and mental wellbeing. With the Samsung Galaxy Watch 4 you can see precisely what you're made of thanks to its body composition analysis feature that uses bioelectrical impedance analysis. 
The FitBit Sense is definitely the most immersive in the Fitbit range, with its stress-reading EDA and skin temperature sensor that gives you a better idea of what's going on in your body when exercising.
Some may not see these metrics as entirely useful, but it sure makes FitBit stand out from the crowd.
Both smartwatches measure heart rate, track sleep, log your menstrual cycle, can perform SpO2 readings and can even perform FDA-approved ECGs to detect atrial fibrillation.
However, the ECG function only works for Galaxy Watch 4 if it's paired to one of the newer Samsung phones. But all FitBit users can look at their smartwatches to see if there's any areas of concern with their heart rhythm. 
If you want something that auto-tracks or auto-pauses while you exercise, both the Samsung Galaxy Watch 4 and FitBit Sense 4 will fit the bill. They accurately follow your route via GPS, alert you to important metrics in real time, and support a wide array of workout types.
FitBit Sense's Active Zone Minutes feature is an excellent way to meet exercise goals, encouraging you to meet the 150 Active Zone Minutes approved by the AHA and recommended by WHO each week.
Battery Life
FitBit Sense blows the Samsung Galaxy Watch 4 out of the water in this department. While the Samsung Galaxy Watch 4 has a 40 hour battery life, the FitBit Sense has a staggering 6-day battery life!
However, if you regularly use the GPS feature this drops dramatically to about 12 hours. It makes sense that the FitBit Sense has such a long battery life though, considering it's designed to be worn 24/7.
It's always a pain when you're packing for a trip and you need to remember not only your electronic devices but the chargers to go with them, but with the FitBit Sense no charger is required for a weekend trip!
However, to run features like the always-on display and routine fitness tracking the Galaxy Watch 4 will need to be charged daily.  This makes the overall battery life a little inconsistent but if you don't mind charging it for a little while everyday then this isn't too much of a concern.
Software
The Samsung Galaxy Watch 4 and FitBit Sense have a number of communication and productivity features as well as health features.
Although FitBit is owned by Google, WearOS only powers the Samsung Galaxy Watch 4 and the FitBit Sense has a proprietary OS.
WearOS gives the Samsung Galaxy Watch 4 more sophisticated and comprehensive features, but the software of the FitBit Sense is still intuitive as well as user-friendly. It's a great choice for those using a smartwatch for the first time. 
The Samsung Galaxy Watch 4 also has more apps available than the FitBit Sense.
With the Sense you are limited to FitBit's own activity tracking app or FitBit Premium but with the Galaxy Watch 4 you can make use of more running and workout apps, maybe some that you already favor.
Google apps like Maps and Google Play Music are also available on the Galaxy Watch 4.
However, Google Assistant is conspicuously absent from the Galaxy Watch 4, being replaced instead by Bixby. Meanwhile, the FitBit Sense doesn't just support Google Assistant but Alexa too (although you can't use them both at the same time).
However when it comes to communication and compatibility the most important distinction between the Galaxy Watch and the FitBit Sense is that the Galaxy Watch 4 only works with Android phones while the FitBit can be used with any phone, even iPhones.
Strangely –  and maybe frustratingly –  though you can use both to answer texts, but only with a compatible Android phone, even if you've synced your FitBit Sense up to an iPhone.
The Galaxy Watch 4 also offers LTE support through a wireless provider at an additional fee.
This is not the case with the FitBit Sense. Therefore, your Sense always needs to be connected to your phone to display notifications or to activate your voice assistant. 
Samsung Galaxy Watch 4 Summary
The sharp design, smart software, and excellent health sensor make the Samsung Galaxy Watch 4 a definite upgrade from previous models while still retaining the rotating bezel fans love. 
Pros
Sleeker design
New Wear OS comes with more apps than previous models.
Body composition analysis.
Cons
Inconsistent battery life.
Fitbit Sense Summary
The FitBit Sense is a definite upgrade from previous models, illustrating that it's not just about getting in shape but getting healthy too! 
Pros
Sporty, attractive design.
Extremely long battery life.
Comprehensive health and fitness features.
Cons
Final Thoughts
While both the Samsung Galaxy Watch 4 and FitBit Sense are both impressive pieces of smartwatch technology, both have their drawbacks as well as their advantages. 
However, the Samsung Galaxy Watch 4 is the more comprehensive smartwatch, from the software to the communication features to the various configurations. If you have a Samsung smartphone we would definitely recommend the Samsung Galaxy Watch 4 for ultimate compatibility.
However, the FitBit sense is the better fitness tracker, and if you have an iPhone – or any phone that is not an Android for that matter – is more compatible.
This smartwatch isn't so concerned with keeping you connected to your phone (although it has features that do that) but more concerned with helping you have a more holistic understanding of your body. 
Last update on 2023-01-22 / Affiliate links / Images from Amazon Product Advertising API