The Apple Watch Series 2 is the first Apple Watch model that is water resistant and can be worn in shallow water. Whether you like to swim, surf, or you just like to wear your Apple Watch in the shower, there's still a chance that water can get inside.
Also, if you're big into running – or any other high intensity activity – sweat can also get inside your watch. 
If water gets inside your Apple Watch, the speaker can sound muffled, but there's any easy way to get it out without having to shake your device. 
Although the speaker isn't designed to be completely shut off to prevent water damage, Apple did design the speaker to be able to take some water damage without getting totally ruined.
To get any water out of the speaker, you can take advantage of the Apple Watch's built-in water ejection feature. 
The Apple Watch Series 2, Series 3, Series 4, Series 5, SE and Series 6 all come with a Water Lock feature. This essentially allows you to "lock" the screen, so that you can swim underwater without activating it.
This feature also allows you to "eject" water out of the speakers holes which will prevent any moisture inside the watch from causing long term damage. 
Please keep in mind that the Apple Watch Series 1 is only splash resistant, and it is not recommended to wear them swimming or in the shower. 
How To Turn On Water Lock 
Turning on the Water Lock feature is actually pretty simple: 
Touch and hold the bottom of the display until the Control Center appears, swipe up to fully access the Control Centre. 
Look for the Water Lock button – it's in the shape of a water droplet – and tap it. 
The button will turn a turquoise-blue color to signify it's switched on. A little turquoise-blue water droplet will also appear at the top of the watch face to remind you it's in Water Lock mode. 
The Water Lock feature will automatically turn itself on when you begin a water-based activity such as swimming or surfing. 
How To Turn Off Water Lock and Eject Water 
As Water Lock effectively "locks" the screen which prevents any accidental input whilst underwater, you'll need to use the Digital Crown on the side of your Apple Watch. 
Turn the Digital Crown until the display says it is unlocked – you can rotate the Digital Crown in any direction. 
Then a series of tones will play and you'll see an animation on the screen whilst water is cleared from the speaker. Once the water has been ejected, you can once again use your Apple Watch.
Looking After Your Watch After It's Been Used in Water 
To prolong the lifespan of your watch and to keep it in pristine condition, it's always a good idea to run it under some warm water, making sure the Water Lock feature is switched on.
This is especially important if you've worn your watch swimming as both saltwater and chlorine treated water can cause long term damage. It's also a pretty good idea to do this after you've exercised, or when your watch is just dirty in general.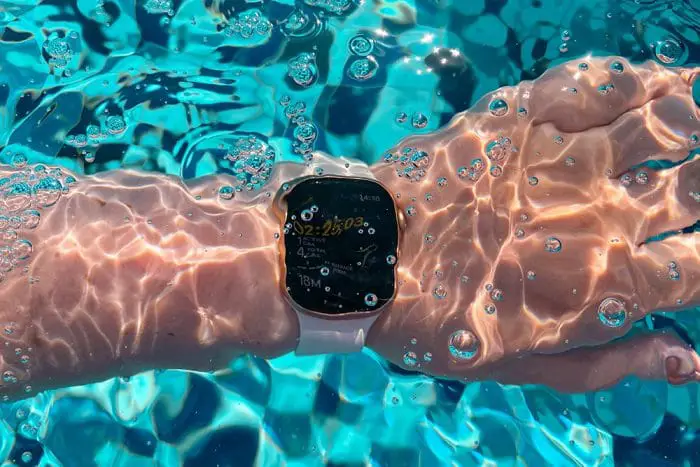 Once you've run it under warm water, use the Water Lock feature to clear out any liquid that may be inside the speaker. Finally, give your Apple Watch a wipe down with a soft, dry cloth so it's completely dry again. 
When you're ready for bed, make sure you plug your Apple Watch in to charge, as this will help speed up the evaporation of any water or sweat that's still inside your watch. 
Do not use a hair dryer or cleaning spray on your Apple Watch as these can cause serious damage. 
Once your Apple Watch is completely dry again, the speaker should be as good as new, and the mic will be able to pick up your voice more accurately. 
Up to What Depth Is The Apple Watch Water Resistant?

Apple Watch Series 1 – Not Water Resistant 
If you have this earlier model of the Apple Watch it's not water resistant at all, so don't even think about going for a swim wearing one of these. You should be okay, however, to wear it while washing the dishes or working out – just don't submerge it, ever!
Apple Watch Series 2, 3, 4, 5 – Water Resistant Up to 50 Meters 
If you have an Apple Watch from Series 2 to 5, it is water resistant up to 50 meters. However, keep in mind how old your Apple Watch is as with age and daily wear, the water resistance features will slowly decline. 
If you own an Apple Watch Series 2 (2016) or Series 3 (2017) and you've owned them for quite some time, it's pretty likely that they're nowhere near as water resistant as they once were.
Think twice before you decide to wear it while swimming. It should still be fine to wear it whilst showering, cleaning, or any other activity where your hands are in water for a couple of seconds. 
If you own the Series 4 (2018) and Series 5 (2019) you should still be okay to wear your watch during water sports like swimming, snorkelling and surfing. 
Apple Watch SE – Water Resistant Up to 50 Meters 
The Apple Watch SE may have fewer health features and a slower processor than the Series 6, but it does have the same water resistance features. The model is water resistant up to 50 meters, so feel free to take it for a swim, or a soak in the tub – it's more than capable of handling extreme water activities. 
Apple Watch Series 6 – Water Resistant Up to 50 Meters
Introduced in 2020, the Apple Watch Series 6 offers the same water resistance rating but is by far the most reliable. For those who like to swim regularly, the Series 6 is the best model for you. It also has some health features that are not offered on any other Apple Watch that are designed for under-water activity. 
Apple Watch Series 7 – Water Resistant Up to 50 Meters 
The newest Apple Watch model will be released in Autumn 2021, and is also water resistant up to 50 meters.