Just when you thought smartwatches couldn't get any smarter, they did. Each year the top brands of smartwatch developers create new features on their signature watches to make your life more convenient and working out more exciting. Getting motivated to move more and workout harder can be difficult, but your smartwatch will be there for you, giving you nudges in the right direction all day to keep you on top of your activity level.
But how do you know which smartwatch to buy? There are so many on the market right now with varying price points and similar features. It's difficult to know which one to buy without doing some serious research and comparisons between the different brands and models. Here is a simplified list of all the best smartwatches for working out in 2019. Each has its pros and cons, so they are not in any particular order. Make sure you read the reviews of the ones you're interested in to see if they have features you want.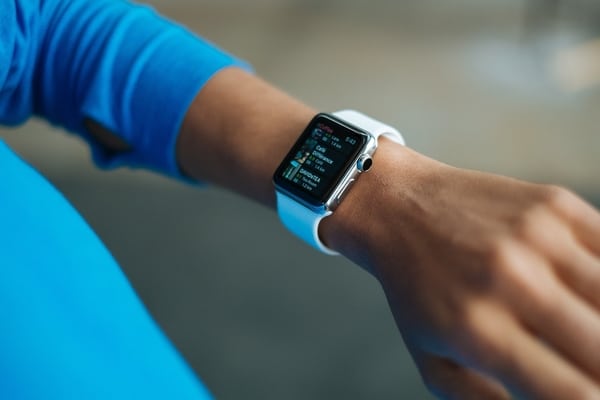 1. Apple Watch 4
Compatibility: iOS
Storage: 16 GB
Connectivity: Wi-Fi, Bluetooth, LTE
Battery Life: 1 to 2 days
Pros:
If it were a popularity contest, the Apple Watch Series 4 would be a prime contender. Apple has a way of exciting buyers every year when they come out with their new lines for all their technology in the early fall. Buyers are confident with this company that they will get a great product that is cutting edge, bigger than ever before, and has a sleek, lightweight design. It also has far and away the most storage than any other smartwatch product on the market.
The Series 4 is no exception, especially if you primarily want to use your smartwatch for working out. This device works well for any physical activity including swimming, has a louder speaker than before, and one of the most exciting features is the electrocardiogram. Though this isn't a replacement for a physical in an actual physician's office, if you are really health conscious, or working out because of a heart condition, this is a feature you will definitely appreciate.
Cons:
The Apple Watch has a lot of exciting features, and it's likely that whatever isn't in the watch already, there is an app that you can download to get what you need. However, some complaints have been that there isn't a built in sleep tracker, and that you have to download an app for that. It does seem like a minor complaint.
Another complaint among some buyers is of course the price. You get what you pay for, and the Apple Watch is a great product. However, if you are looking for something a little more in a lower price range, just wait a couple months before or after the new year model comes out and you'll get a significantly lower price for the same great product.
2. Samsung Galaxy Watch
Compatibility: Android, iOS
Storage: 4 GB
Connectivity: Wi-Fi, Bluetooth, LTE (for extra)
Battery Life: 4 days
Pros:
One of the best parts of the Samsung Galaxy Watch is that it has a very easy to learn interface. It's fun to geek out about different features in a smartwatch, and this watch has many, but if you want to use a watch primarily for functionality without too much work, this is the one for you. People who are and aren't tech savvy alike will enjoy this watch, especially with its phenomenal battery life. Four days is substantially longer than other smartwatches on the market.
This watch also has a more traditional feel than some other smartwatches available. It has all the technology still but the design doesn't feel like a phone on your wrist. There are several face designs to camouflage that it is even a smartwatch. It has a rotating bezel, which is one of its customers favorite features. You can easily scroll or switch through apps and emails on the watch without your finger obstructing your view on the screen.
Cons:
Though the battery life is awesome, charging the watch can be a bit of a pain, but when you're only charging it once or twice a week, it's not too big of a deal. And also, the battery life will only last 4 days if you don't change the factory settings. So you can't have the display always on to tell the time, as one example. It is a bit disappointing that you can't always have the time on display on a watch.
3. Misfit Vapor 2
Compatibility: Android, iOS
Storage: 4GB
Connectivity: Wi-Fi, Bluetooth, GPS
Battery Life: 1 day
Pros:
If you're looking to buy a smartwatch that isn't the same as everyone else, then you might want to consider the Misfit Vapor 2. It is a little lesser known than the top sellers, but utilizes a Snapdragon chipset that is used in several smartwatches such as the Fossil Gen 4 watch and Mobvoi Ticwatches. It may not be the most commonly used platform, but it is good enough for some high producing brands.
Another great feature of the Misfit Vapor 2 is that it has GPS, which is great for running, and one of the most sought after features for outdoor runners and swimmers.
Cons:
Many Misfit Vapor 2 Users have complained that though the design is a bit different than some of the more popular brands, it is also a bit more flimsy and delicate as well. If you are interested in using this smartwatch for fashion or day to day activities, this may not be an issue for you. However if your primary use is to track your workouts, you will probably want something a bit more durable.
The Misfit also does not include LTE, which can be a big deterrent for some. For those who are not as tech savvy, LTE is important because it uses cell towers rather than WiFi for data streaming. WiFi is much more limited than LTE and LTE covers about 95 percent of the US. So if staying connected is important to you while you are on the go, this could be a deal breaker. Though, to be fair, there are several very high performing smartwatches that don't offer LTE, and many that made this list.
4. Fossil Sport
Compatibility: Android, iOS
Storage: 4GB
Connectivity: Wi-Fi, Bluetooth, GPS
Battery Life: 2 days
Pros:
Finally, the fashion industry is coming up with a smartwatch that can be a contender among all the tech brands. If you are looking for something that carries all the basics that you want for a fitness tracker and has the design of a traditional watch, the Fossil Sport is the smartwatch for you.
Quick Note: If you are a fan of the retro look we have an article about fitness trackers that look like watches.
A convenient feature as far as smartwatches go, is that you can program the pusher buttons on the side to do whatever you want, even if it's just a shortcut to your stopwatch. People who like to have exact timing on runs or workouts will be happy to have this.
This watch is small and lightweight, making it a great choice to wear throughout the day, but especially at the gym. The watch face is much smaller than leading smartwatches, and though it may be a bit thick, its casing is aluminum, which makes it lightweight and easy to forget that you are wearing it.
Cons:
As mentioned before, Fossil is primarily a fashion brand, and the smartwatch is a very basic model as far as technology goes. But if you want something that will look good all day long while tracking your fitness at a basic level, then this watch could be great for you.
This smartwatch runs with Snapdragon 3100, which can offer a smooth experience at times, but at others it runs really slowly. When you are using your smartwatch for its fitness features, you want to have something with a fast response rate. However, it doesn't just affect the fitness tracker features. It can take several seconds for the watch to register the caller ID after receiving a phone call as well.
5. Fitbit Versa
Compatibility: Android, iOS
Storage: 2.5 GB
Connectivity: Wi-Fi, Bluetooth
Battery Life: 3 to 4 days
Pros:
Fitbit are a household name when it comes to fitness trackers, but they steered clear of smartwatches for a surprisingly long time. They now have a couple models on the market including the Fitbit Versa, and they don't disappoint. These watches are on the lower end of the price range in smartwatches, but you know that when you buy from a company that has been making fitness trackers since the beginning of fitness trackers, you are going to get a smartwatch that is great for working out.
Cons:
The Fitbit Versa, though it is a good smartwatch combined with fitness tracker, it still lacks GPS, which can be a little frustrating if you want to track your outdoor runs or swims. GPS is also a great feature to have to use apps to allow your friends or family track you on a run, especially if you are running a race and they want to show up at checkpoints.
The design is nothing special, but if you're looking for basic functionality and a lightweight design more than fashion, this watch will still be a contender.
6. Mobvoi TicWatch E2
Compatibility: Android, iOS
Storage: 4GB
Connectivity: Wi-Fi, Bluetooth
Battery Life: 2 days
Pros:
One of the absolute best things about the TicWatch E2 is that it is among the cheapest smartwatches around and has all the basic fitness features that you want and need. It still is waterproof, has a heart rate monitor, GPS for running outside, and a sleep tracker. Though it is a lesser known brand, getting all those health features into a smartwatch at that price is unbeatable.
You can also use the TicWatch E2 in the pool, so swimmers have yet another option for a smartwatch. Like many swim friendly fitness trackers, the E2 can detect the type of stroke, length, pace and many other swimming features that you would want to know about.
Quick Note: Our article on fitness trackers for swimming will guide you through some of the best options to track your water based exercises.
Cons:
This smartwatch leaves something to be desired in the design. It's not ugly, it's just nothing special. It doesn't look traditional or modern–it just has a bit of a generic, bland look to it. It also is not equipped for payments, so don't leave the house without your wallet if you're planning on buying something.
The TicWatch also is unable to take a recieve calls because, though it is equipped with a microphone, there is no speaker. You also can ask the watch questions, but will not get any audio feedback, just a screen response. This may not bother you too much, but it could be annoying if you're used to using these kinds of features with your smartphone.
7. Fitbit Ionic
Compatibility: Android, iOS
Storage: 2.5 GB
Connectivity: Wi-Fi, Bluetooth
Battery Life: 2-3 days
Pros:
The Ionic was Fitbit's first attempt at a smartwatch, and though it may have been a bit overpriced to start out, now that the price has dropped dramatically, you can still get a good quality watch for a competitive price.
Fitbit, of course, has been doing fitness trackers for since the beginning of fitness trackers, so this smartwatch has everything you would ever need in that department. On the whole, this watch seems to be a highly upgraded fitness tracker. You can do any activity you want with it and it even provides some coaching, which is a big benefit if you are serious about fitness.
A great feature that the Ionic has is Fitbit pay. It's very convenient if you need to drop by a store while out on a run or at the gym to not have to tote around your wallet.
Cons:
Though the Ionic is a step up from Fitbit's previous fitness trackers, it still has a bit of improving to do. The interface is not very fast, which can be annoying if you are using your watch on the go, which you typically will be doing if you are using it for fitness. Convenience is the whole reason to have a device small and travel size to wear on your watch, so when it isn't operating conveniently, it can be frustrating.
The Ionic also doesn't come equipped with a lot of apps. It might be a nice smartwatch to start out with, especially if you want it mostly to use as a fitness tracker, but if you want something a little more cutting edge with more non fitness related features, you might want to look in another direction.
8. Garmin Forerunner 645 Music (running)
Compatibility: Android, iOS
Storage: 60 MB
Connectivity: Bluetooth, WiFi, GPS
Battery Life: 5 days
Pros:
The Garmin Forerunner 645 Music really is the smartwatch for runners. This smartwatch may not have as many futuristic details as other fitness trackers and smartwatches on the market, but it certainly has everything a runner would ever want. It measures stride length, cadence, heart rate, balance, and time in contact with the ground. This smartwatch won't just track your run, but it will coach you to become a better runner.
The design is of a traditional watch, so while some smartwatches look like fitness trackers, this watch will transfer seamlessly from gym to office to night out.
Additionally it has storage for music that you can listen to while offline and water resistance for swimming.
The Garmin Forerunner also has an amazing battery life of 5 days. It might not seem like a big deal to charge your watch every day or so, but if you forget and have to leave it for a while to charge, it can really mess with some of your fitness tracking.
Cons:
One of the reasons why the Forerunner has such an amazing battery life is because it doesn't have a touchscreen like many of the smartwatches out there. It is primarily a fitness tracker and watch, and though you can move through your apps fast enough, it may not offer everything that you would want in a watch.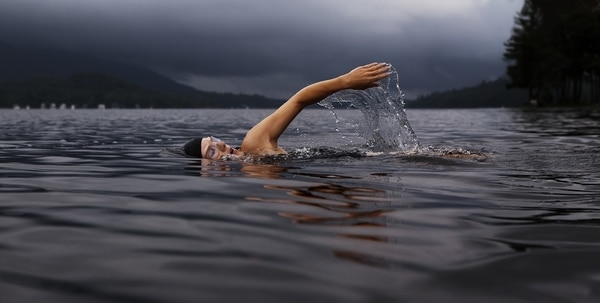 9. Garmin Vivoactive 3 Music (swimming)
Compatibility: Android, iOS
Storage: 3.5 GB
Connectivity: Bluetooth, WiFi, GPS
Battery Life: 5 days
Pros:
Though there are many fitness trackers that are water resistant now, there aren't quite as many options for water resistant smartwatches. The Vivoactive is a great option for avid swimmers who want a smartwatch to track their swims. More particularly for Android users who want to track their swims.
The design of this watch, like the Garmin Forerunner is of a traditional watch face, but it has a more sleek design. It has capabilities to track time, distance, and strokes for swimming along with many other fitness activities as well.
Also like the Forerunner, it comes with enough storage space to download songs for offline listening and GPS.
Cons:
This smartwatch is a great choice if you love to exercise through swimming, but the Apple Watch 4 is still a better choice if you want the best watch for swimming. The apps available to the Apple watch are easier to use and more functional, but most of all, the Garmin Vivoactive does not track outdoor swims, while the Apple Watch does. So if you have an iPhone, and the choice is between the two for swimming, you might want to use the Apple product. If you have Android, the Vivoactive is the best option for swimmers.
10. Nixon Mission
Compatibility: Android, iOS
Storage: 4 GB
Connectivity: Bluetooth, WiFi, GPS
Battery Life: 1 day
Pros:
The Nixon Mission is another lesser known smartwatch, but it is a great option of a smartwatch for working out. It is rugged and durable and very waterproof. It's waterproof capabilities go to depths of two times that of the Apple Watch 4 and most other waterproof watches on the market.
The Mission has a casing that is thick and you won't be worried about needing to baby it at the gym. This watch can take a beating, which is perfect if you want to have a smartwatch for working out.
This smartwatch has ski and snow features as well as surfing and swimming features, which makes it a great option for the high adventurer out there. If you are going to be working out or doing any high intensity activities in or out of the gym, this watch will be the one to keep up with you.
Cons:
Many wearers, though they love the durability of this smartwatch, feel that it is altogether too chunky for comfortable, everyday wear. You may enjoy having it as a tracker during a workout, but be less excited to wear it throughout the rest of your days activities. Though it is chunky, it may be for a reason. Many wearers admit that the large buttons on the side were particularly easy to use while wearing skiing gloves.
11. Kate Spade Scallop 2
Compatibility: Android, iOS
Storage: 4 GB
Connectivity: Bluetooth, WiFi, GPS
Battery Life: 1 day
Pros:
Like the Fossil Sport, the Scallop 2 smartwatch was created by a teamwork of fashion designers and technology developers. Though this may not be the typical fitness tracker smartwatch out there, and it might not look like it belongs on your wrist at the gym, the design is one of the best out there for smartwatches.
This smartwatch was made particularly for women, which is a great selling point in itself. Most tech companies will provide a smaller watch band for feminine or small wrists, but the watch face for the Scallop 2 is much smaller as well and just looks quite a bit more feminine and fitting than other smartwatches on the market.
It also comes with Google Wear OS system so it has all the features you would need in a smartwatch for functionality and fitness. It has a heart rate monitor, GPS, and is equipped for Android Pay.
It also comes with a lot of band options that you can change out depending on how you want to use it. It is by far the best looking watch for women on the market.
Cons:
As mentioned before, it is a very nice looking watch and you might be nervous to wear it in the gym, which is a big con if you want it to work out with. However, though it has a high fashion design and name, if you are as careful with it as you would be any other smartwatch, it will work great for you as a fitness tracker as well as a smartwatch.
What To Look For In Smartwatches
There are several different options for smartwatches on the market today and each year there are more coming out, which are better than ever before. There is literally a great watch for everybody. Anyone can find something they like whether it is the price point or the features that they can't live without.
Durability
When you are buying a smartwatch that you want to use for fitness tracking in particular, there are a few things to consider. You should look for a durable design and materials. Smartwatches are not cheap, and if you want one to last a long time while using it constantly and through rough conditions, you want to get one that can take a beating. Consider the kinds of activities you will be doing, if you are doing them inside or out, and if you need water resistance. If you are unsure of the durability of a smartwatch, consider visiting a store to try one on.
New Versions
Another huge factor that is helpful to know about when buying a smartwatch is when the brand is coming out with a new one. Do some research and find out when the new one is coming out and what kinds of features it will offer. If a new model is coming out in a few months, it may be best to wait until the newest version comes out to buy that. Or if you know the current one is a good model, buying the old version now while prices are lowering may be a good move.
Operating System
Technology can be finicky, but most companies that develop smartwatches work tirelessly to work out kinks in a system. Do your research on what kind of operating system your watch will run on and make sure that if it hasn't always been a good system, that changes are being made. It is common for some issues to come out right after an update comes out, so don't write it off completely if there are a few unhappy customers. Take each review with a grain of salt and keep yourself in the know about what updates are coming out.
Conclusion
Overall, there are lots of options for smartwatches that work as fitness trackers and most of them are great products even if they have slightly differing  features. There are fitness trackers to track kayaking, track spinning and of course not forgetting the classic, fitness trackers to track running. No matter what you are looking for you are sure to find a watch that fills your needs and fits your wallet.