Listening to music whilst you exercise is a great way to motivate yourself to do more reps or push harder, longer and stronger . Indeed, there is research to back this up.  And, if you are anything like us the device you play your music on is almost as important as your trainers. What if you could ditch your phone or music device and crank out those uplifting workout tunes. We take a look at the options to try and find the best fitness tracker with music.
Fitness trackers that play music break down into 2 different styles:-
Onboard storage where the music is kept natively on the tracker. Typically, they come with about 3GB – 4GB of storage, enough to store around 500 – 800 tunes.
Bluetooth paired where you to stream music from a smartphone paired with your tracker.
Another thing to bear in mind is that none of the devices come with a headphone jack and require a set of bluetooth headphones. Dependent on which tracker you buy this may need to be an additional purchase or will come specifically tailored for that tracker.
We've scoured the market and compiled a list of the best
Fitness trackers that play music
1. Apple Watch
Now that we are on series 6 of the Apple watch there are several models that will work as a fitness tracker that play music. If you're the type who likes the latest or greatest the Apple Watch series 6  with LTE functionality offers the ability to stream music from Apple Music and make calls directly from the watch.If you feel that is overkill the lower spec watches offer 8GB of onboard storage which should give you a reasonable amount of space for tunes. WatchOS7 provides numerous music based benefits including the ability to sync curated playlists from Apple Music to the watch and better synchronization with any iPhone you stream stored music from.
2. Samsung Gear Fit 2
Another smart watch, this time from Samsung. The waterproof Gear Fit 2 pro comes with all the goodies you would expect from a high end expensive fitness tracker. Running Tizen OS gives you access to a vast array of apps and 4GB of onboard storage allows you to make use of the phones offline Spotify functionality. None of the other fitness trackers that play music offer Spotify support so it is definitely ground breaking.
3. Fitbit Versa
The Versa 2 allows you to store music on your watch but has no on-board GPS whilst the Versa 3 has on-board GPS but only allows you to store offline playlist if you have a subscription to services like Deezer. Other notable features in the Versa range are device payments, silent alarm, notifications and tight integration into the Fitbit ecosystem.
You listen via bluetooth headphones. Overall, the Versa range gives you some good options for listening to music.
4. Garmin Vivosmart 3
Moving on to Garmin Watches that play music the Garmin Vivosmart 3 does not offer as many features as some of the other trackers in this list. Music is not stored on the device itself but is streamed from your mobile phone. You have the ability to pause, play and skip tracks within your default music app. Enough control for some but could be frustrating if you use other music apps like Pandora.
5.Forerunner 245 Music
The waterproof flagship in TomTom's stable equipped with all the features you would expect including GPS, heart rate monitor and a built in music player. Packing 3GB of internal storage gives you have the possibility of storing around 500 songs on the Spark freeing you from the need to carry your phone or music player with you.Getting your music on the Spark is achieved by using the supplied Tom Tom MySports Connect App where you can choose your favourite tunes from your PC and upload them to the device.
As with a lot of fitness trackers there is no headphone jack and you will need to buy a set of compatible bluetooth headphones. Alternatively, you may consider downgrading a couple of models and look at the Tom Tom Spark 3 Music edition where TomTom provide the headphones.
With all these smarts the watch may be a little bit too bulky for some and there are also some reports of slow GPS signal pick up time.
6. Polar M600
More of a smartwatch than a fitness tracker the waterproof M600 runs on Android Wear and is equipped with a GPS tracker, 1.3 inch touch screen display and optical heart rate monitor. To get the most of your phone you will need an Android mobile as iOS and other devices won't benefit from the tight integration that Android can offer. Music you can transfer music to the device or use the Google Play to save tracks directly to the watch. 4GB of onboard storage should be enough space to get a few tunes ready for your workout. All in all a great fitness tracker that plays music.
7. New Balance Run IQ
Running Android Wear 2 the RunIQ has a large screen and is waterproof up to 50m. it is possible to use the music on your phone or make use of the 4GB of onboard storage and Google Play Music which is around 50 hours. As ever, the device requires bluetooth headphones. The PaceIQ headphones are designed for use and offer the benefit of hearing your current lap stats by clicking on the device's RunIQ button.
8. Huwaei Watch 2
Probably not as well known as the other brands the Huawei Watch 2 is a fitness focused smart watch. As it is equipped with 4GB of onboard storage and runs Android Wear it gives you the possibility of uploading tracks from Google Play music if you want to go phone free or the ability to control your phones music player if not. The watch also has a built in speaker through which you can play your music. The watch is bulky but a great choice for someone who enjoys all the fitness tracking capabilities of smartphones.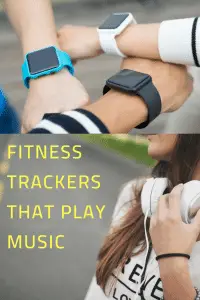 Last update on 2022-01-04 / Affiliate links / Images from Amazon Product Advertising API