Gain Access To Your Apple Watch's Full Feature-Set In One Simple Step
Affordable, functional, stylish, and loaded with some of the best fitness tracking features in the game, the Apple Watch was a welcome addition to the smartwatch market, but it's not without its shortcomings.
Those familiar with the device will already understand that I'm talking, of course, about the battery life.
While the Fitbit Versa 2 can soldier on for up to 3 days, and the Galaxy 4 from Samsung, a whole dang week, the Apple Watch putters out after an underwhelming 18 hours.
To try and offset this tragic lack of juice, Apple included a "Power Reserve" mode in the watch that shuts down all functionality but for the time display. Suddenly, your smartwatch is, well…just a watch.
Apple Watches are designed to ask if you want to engage Power Reserve mode when the battery level reaches 10% capacity, and while it does extend battery life by roughly 72 hours (nice!), sometimes you need to switch back to full-fat mode.
I've seen a lot of queries about this online, with some even claiming that their Apple Watches get stuck in Power Reserve mode indefinitely, so I thought I'd put together this easy-to-follow step-by-step guide on the matter.
I'll be discussing how to turn off Power Reserve mode, how to turn it back on again, and some possible fixes when you can't seem to find your way out of Power Reserve mode. Let's get to it!
Turning Off Power Reserve Mode on an Apple Watch
I'm pretty sure that the main reason there's so much confusion on the topic of turning off Power Reserve mode on Apple Watches is that there isn't actually an onscreen command to do so.
That's right, folks; it can be done, but the off switch isn't displayed in any of your Apple Watch menus. The truth of the matter is that the only way to break free of this energy-efficient handcuff is to completely restart it.
This is done by…
Step 1. Pressing and holding the "Friends" button on the lower right edge of the watch for 10 seconds. You'll find it beneath the digital crown, which, for those not hip with watch lingo, is the cog-like dial you can use to zoom or navigate your Apple Watch menus.
You'll know the reboot is complete when you see the Apple logo flash up on the watch face.
Step 2. I've got some good news for you, friend. There is no step 2. You're all sorted. After a brief loading period, your Apple Watch will fire back up, all guns blazing, giving you access to all the smart features you were locked out of.
If your Apple Watch is refusing to turn back on, it usually just means the battery life has fallen so low, that it simply doesn't have the energy to turn on without Power Reserve mode activated.
If you want access to the full Apple Watch feature set, you'll have to find a charging station, stat!
Turning On Power Reserve Mode on an Apple Watch
If you've got a few pretty sedentary hours ahead of you, perhaps sitting on a train or bus, you can save some of your Apple Watch battery by manually triggering Power Reserve mode.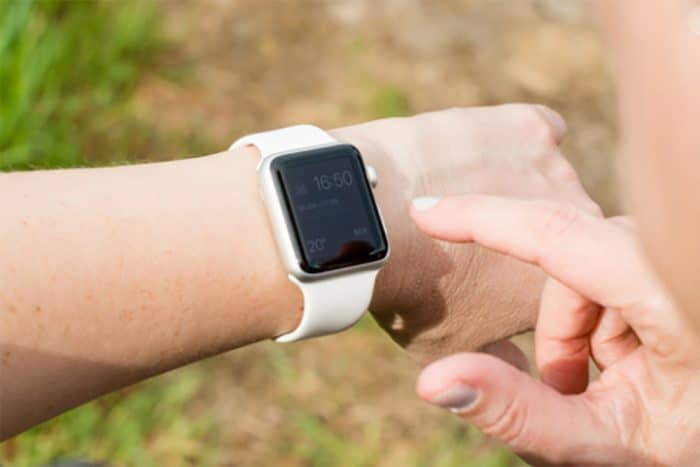 Then, once you're up at it again, you can restore full settings, and enjoy the full depth of your smart device. So, let's see how it's done, shall we?
Step 1. To get the ball rolling, swipe up from the bottom of the watch face, just like you would if you were trying to access the torch on an iPhone.
Step 2. Similar to an iPhone, a list of symbols will appear, one being a battery life percentage. Tap it.
Step 3. You'll then be taken to the dedicated battery power screen. Below the power percentage, there's a button labeled "Power Reserve". Swipe the button all the way to the right.
Step 4. At this point, your Apple Watch just wants to make sure that you really meant to swipe the Power Reserve button. It will ask you if you want to cancel the request or proceed. Select proceed, and voilà; sorted! Your Apple Watch is now in Power Reserve mode.
Apple Watch Stuck In Power Reserve Mode: Help!!!
There have been some fairly isolated reports of peoples' Apple Watches becoming fixed in Power Reserve mode, which I can imagine is pretty irritating, so let's take a look at some possible issues.
Permanent Power reserve mode is much more likely to be caused by a problem with charging equipment or the power source than it is with the watch itself.
Do the following checks to troubleshoot the predicament…
Make sure both the head of your charging cable and your watch's charging port are dry and clean. Use a lint-free microfiber cloth to give them a good once-over.
Make sure the head of your charger is pushed fully into the charging port – some stands and cases can get in the way.
Borrow another Apple cable from a friend or family member and see if it works.
If charging via a mains outlet, ensure the plug and USB cable are fully secured.
Use an alternative adapter such as an Apple 5W or 12W USB power adapter or a quality 3rd-party 5W USB adapter.
Charge your watch via a USB 2.0 or 3.0 port on a computer, making sure the computer doesn't lapse into a power-saving or screen saver mode.
If you can't get it to reset after 2.5 hours of charging, try restarting it manually again using the side "Friend" button.
Still no luck? Force a restart by pressing and holding both the Friend button and the digital crown for 10 seconds.
If none of these checks have worked, I'm afraid to say that you may have a defective product, so you'll have to contact Apple directly and request support, a refund, or a replacement.
Summing Up
Due to the lack of a dedicated on-screen command, it can be a tad baffling figuring out how to turn off Power Saver mode on your Apple Watch, but now the mystery is solved, and it will trouble you no longer — hurray!
Last update on 2023-01-22 / Affiliate links / Images from Amazon Product Advertising API